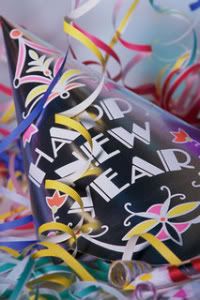 The New Year is upon us!
I live on the Eastern coast of the United States so I have about four more hours until the actual New Year. Unfortunately for me I have to work tomorrow morning, so this year I will stay home and drink champagine with my family.
The New Year for me brings about new changes. Every year I clean and organize everything I own. I donate or get rid of things that bore or no longer interest me. I sit down and reflect what I did last year and write down things I would like to accomplish for this year. And I of course make a list of resolutions, most of which get half way finished. (lol) I tend to make resolutions on January 1st and then on June 1st I either update or amend these resolutions to keep them current to my situations.
My reflections
:
This year I matured in my work ethic. I gained more courage. And I actually sat down to make this blog which I had wanted to do for ages.
My hopes
:
Next year I hope to become more of a noted member of the lolita fashion. I hope to continue gaining courage, strength, and calmness. And I hope to expand my wardrobe and friends to the fullest.
And last but not least...
My resolutions:
☆ Lose weight: 20lbs - (haha) Isn't this on top everyone's list?
★ Live with less anxiety
☆ Post more often
★ Study different and interesting fields
☆ Budget my expenses more
★ Throw out/ Donate old or unloved items
☆ Organize
★ Develop a new talent
To keep these resolutions I try to work on something little-by-little everyday. My
'To Do' list and Calendar
always help me with that. If you take baby steps it will be hard to fall off the track.
Also plan realistic resolutions! I would love to lose more than 20lbs, and that is one of my goals, but for a 6 month span of time 20lbs is plenty to lose. If by June 1st I have lost more than that I will congratulate myself and make a new goal.
And as always, once you acheieved one of your resolutions/goals celebrate! Achieving one of your resolutions is as good a reason as any to give yourself an extra
Princess Day
!!