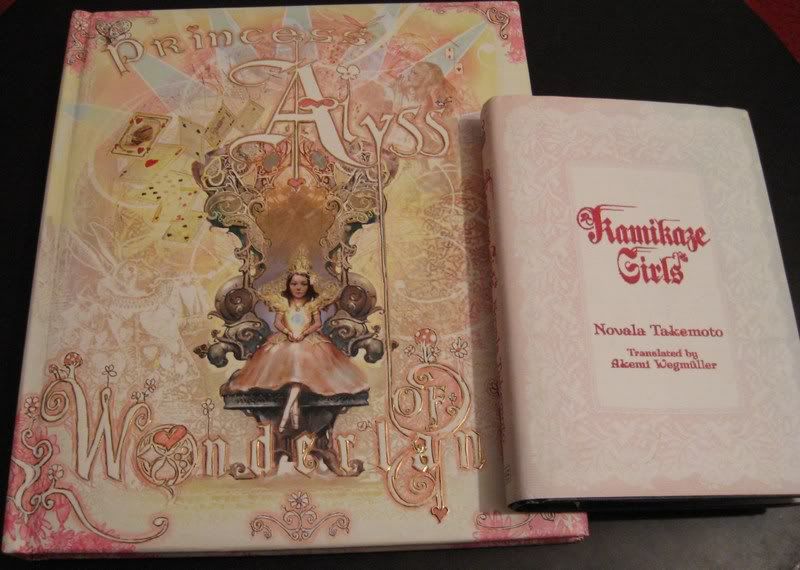 This morning I was delivered two pleasant surprises! Two of my penpals had sent me books.
The first is
Princess Alyss in Wonderland
by Beddor. My first penpal and I have been talking about Beddor's Alyss series for awhile now. I had mentioned that I just bought the second book
Seeing Redd
. I did not know Beddor had made this interactive book. This is set up in the same way as those Wizardology or Pirateology books that are currently popular. I really like all the additional information placed in here. Plus I especially love the actual card decks in the very back of the book.
The next book is
Kamikaze Girls
by Novala. My second penpal was appalled that I have yet to read this book. I have seen the movie, and found it cute and an interesting watch. She said I must read this book and rushed to find a copy for me. I was slightly embarrassed because I would have bought my own copy eventually, but she wrote a small note saying to think of this as an early Christmas gift.
Speaking of Christmas gifts, I need to start shopping! I have no idea what I am going to get everyone this year! I think I will just give small money orders to my penpals and they can decide on their own gifts. As for my family I will have to con them into giving me their gift wishes.
I have a simple Christmas list this year.
1. A violin
2. Money (Then can order from Yahoo!Japan auctions or from the webshops. hehe)