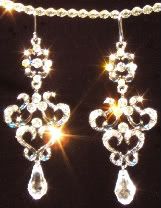 ~October's Princess Challenge~
October's Princess Challenge
was to mention or face a fear.
My phobias are definitely the fear of needles, Belonephobia, and the fear of pain, Algophobia. Ever since I was little I have always feared getting needles and the pain involved of having a foreign metal object underneath my skin. As of my fear of pain, I have no threshold for pain. A sprained ankle for me always ends up with me needing an ace bandage soft cast.
No matter what I do I do not see me facing my fears. It may seem funny because I have six piercing in each of my ears. I have two piercings in my ear's upper cartilage and four on my lower lobes. I seem not the flinch when I cannot see the needle. But no matter what I try I cannot get a needle without someone having to hold my hand and sit on me. Pain on the other hand, I try to avoid as much as possible.

Right ear, left ear has the same set up.