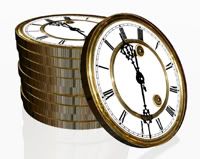 Lolita fashion, just like any other fashion is constantly updating and developing new sub-styles. Requiring its fans to sometimes stay on their toes for the upcoming trends. Maybe next season headresses might make a swiping return. The sweets style might evolve and new decos might appear. I know some lolitas positioned around the world that despair that they catch these trends later, but sometimes we don't. With the help of the internet, personal blogs, videos, and different publications we are just as current as our Asian lolita siblings.
~ For blogs, I have listed in the side columns the personal and brand blogs I frequently visit. I am sure there are more interesting blogs out there. Here is a link list site of blogs relating to lolita fashion:
The blog village
~ In the video category, there are multiple interview clips posted on youtube and veoh for your quick viewing pleasure. And there is also a cute video series called Tokyo Kawaii TV. This show features something current and cute in Asian fashion at the moment in each episode.
~ And finally publications. There are an inexhaustible amount of lolita related mooks. There is of course the ever popular Gothic and Lolita Bible and Fruits all the way down to the less talked about Clara Bow. I only plan to list the few zines I tend to follow because there are just too many out there to name.
Gothic & Lolita Bible - 30 issues + 2 extras + 1 Hair & Make-up Bible + 1 Boudoir special
Kera maniax - 11 issues + 1 special
Kera - numerous issues (124 issues I believe...)
Goth Loli - 12 issues + 1 handmade special
Alice Doll - 1 issue
Handmade Gothic & Lolita - 1 issue
Ageha - 25 issues
Plus there is the upcoming popularity of English mooks:
La Vie En Rose - 2 issues
Gothic & Lolita Bible - 3 issues