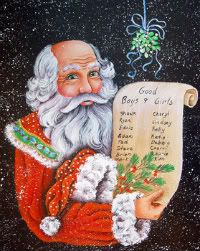 Well dear! It hardly seems like it should already be December. And with 23 days left until Christmas I am sure that everyone has already started Christmas shopping. Sadly... I have not started shopping yet. And with the joy of giving this month also comes the excitement of receiving!
Even at 23 I still make a Christmas list, how about you? Every year my family buys antique looking paper and we write out our Christmas wishes and list and tack them to the mantle. This way Santa, and everyone, can see easily see what the other people want. So far I have a very short list this year. lol It might of course increase before the Christmas Eve deadline.
~Kristen's List~
♥ A new tri-fold floor length mirror
♥ A violin
♥ Suikoden DS game
♥ Baby's black sugar bouquet jumperskirt
♥ Money
New ♥ Kay Jeweler's tri-heart diamond ring
Someone showed me a magazine with this beautiful tri-heart diamond ring, I fell in love at first sight. My fiancee says I have enough rings. lol If no one buys this for me I am definitely buying it for myself!
I hope everyone sits down and makes a Christmas list. It is a fun and goofy December hobby I will always enjoy.