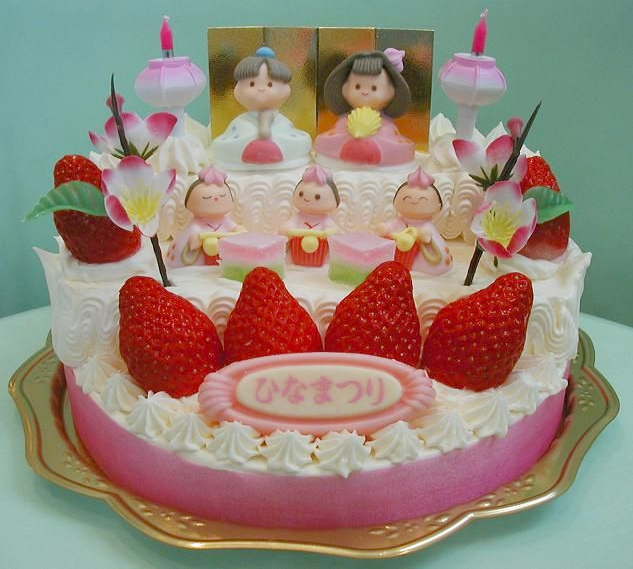 Being born on March 3rd I was always disappointed that my birthday was not around any neat holidays. It was not until my junior year in high school that I found out my birthday was a holiday in Japan, Hina matsuri or Girl's Day! A holiday to celebrate a girl's health and happiness.
On girl's day a tiered arrangement of dolls dress in the height of Heian Period fashion are displayed in a girl's home. Immediately afterward hina matsuri these expensive dolls are stored away for next year. The superstition surrounding this holiday state that girls that do not take down the display swiftly after March 3rd will have a difficult time getting married.
In addition there is a song, ureshii hinamatsuri, associated with this holiday which can be heard in multiple videos on youtube.
Set-up:
The
display
consists of approximately seven steps with a red covering on which the following sit:
On the top there are the emperor and empress and two lanterns which sit in front of a folding screen.
On the second step are three ladies in waiting and some serving items.
On the third step are multiple musicians - at least 5.
On the fourth step are two ministers/warriors and two trees.
On the fifth step are three servants
On the sixth and seventh step are multiple sets of furniture, meals, and carts.
On hina matsuri special foods are made as well.
Sweet, alcohol-free sake and pink and diamond shaped, multi colored, tiered mochi are eaten. Also colorful plates of sushi and rice crackers are also served for this festival.
There is so much information on the web about this holiday. Here are some links I found for your additional information.
♥
Wikipedia: Hinamatsuri
: General and background information
♡
About.com: Hinamatsuri
: Shows a description of the dolls and where they should be placed on the tiers
♥
Hinamatsuri in Japan
: Shows a massive amount of dolls featured at Kada Shrine.
I hope everyone has wonderful hina matsuri!