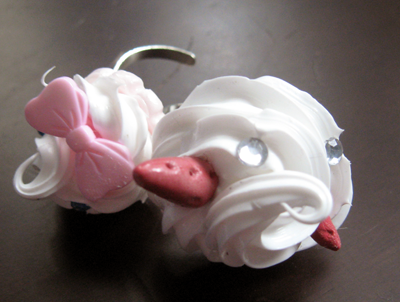 Shop Name:
Faux Sun Faux Moon
Report:
A few years ago Ashlee also known as faunkegin, a popular lolita on the egl sales community, hosted a sale of homemade sweets accessories. I, having a fancy for cupcake rings, jumped onto the bandwagon sale's post along with what seemed like 75% of the community.
I ordered two rings based off others she had commission for other people. Each item is of course unique from the others although if you ask for a similar ring it seems she tries her best to replicate it. The cream is made of a hard silicon substance. It is hard yet spongey and very durable. Like other sweets accessories made of similar materials the silicon collects any dust and hair that comes in contact with it.
I bought these items back in the beginning '08 and all the detailed components of these rings are still securely attached like the day they arrived.
The only drawback I would say is the strawberries. They tend to be overly sized for the small accessories and rather elongated. When ordering my items I asked for smaller strawberries which she gladly adjusted the size for me. Ashlee uses little shiny jems instead of the tiny pearl like accents featured on StrawberryDoll's sweets accessories.
My items were shipped individually wrapped and in a well sized bubble wrapped envelope. They arrived in a timely fashion without a bent or scratch to the package or rings.
Ashlee seems to make a variety of homemade items which she sells sporadically on the egl sales community. She has now opened her own shop which at the moment only seems to offer her fabric candy necklaces.
Overall:
I am pleased with the workmanship of her items. It seems she takes her time working on each item she makes. Plus she asks her customers if they are happy with their products before she ships them to their new owners. Overall, I love the two rings I order from her, but I prefer StrawberryDoll's sweets accessories.
Totals:
♡ Customer service: 10/10 - perfect
♡ Product: 9.5/10 - perfect
♡ Shipping: 10/10 - perfect