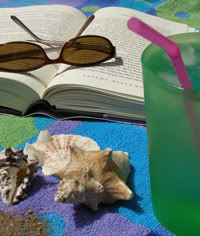 With winter long past and the temperature outside steadily climbing toward unbearable I retreat indoors to a cooler environment and the season I most dread drags across North America. I loathe summer: hot and humid temperatures, crowded roads, and sporadic rain showers. Adding lolita fashion into that mixture is anything but delightful.
As complicated as this fashion can be it can still be treated like any other. Short sleeves are a must. During this season brands and replica companies gratefully release sandals and open-toe shoes. Also I have also noticed that summer lines seem to release jumper skirts and skirts that are made out from a lighter material.
~ Impracticality:
Lolita is essentially an impractical fashion; however, there are times that fact it is helpful. Summer however is definitely the time of year where four layers of undergarments are not practical. One pieces are an alternatives to the multi-layer issue. Your whole outfit is one layer leaving only the needs for a petti-coat and bloomers.
All tulle petticoat: While petticoats can add insulation in the winter they can also keep you cool during the summer. I own two styles of petticoat. I have a full fabric covered petticoat for the winter and I have an all tulle tiered petticoat for the summer. Depending on the stiffness of the tulle petticoat they can be splendidly airy and can actually hold a skirt form well. Tulle can irritating against bare skin so I had my petticoat lined with a soft lace.
~ Baring it all:
While ladies must be aware of the ever present modesty issue; it seems to take a back seat to comfortability during this season. During summer and places where the temperature is constantly humid it is acceptable for lolitas to go blouse-less under their jumper skirts. Also during this season lolita around the world have bent the rules a little and wear dainty ankle socks.
Other tips:
Here are some other tips I use that help me making it through these hotter months.
- Socks are definitely more pleasant to wear than tights.
- Carry sunblock in your bag.
- Accessories such as fans will help keep you cool while walking outdoors.
- Parasols will aid in shading you from the sun.
- Wear updo hairstyles.
- Drink plenty of water. Because of the multiple layers you can dehydrate easily.
- If you are too embarrassed to go blouse-less with your jumper skirt wear a short sleeve bolero.
Although this is my least favorite of seasons there are some wonderful things about it too... Outdoor sports such as badminton and volleyball are a few favorite summer sports. Swimming and visiting the beach on warm days. Day trips to topiary gardens and flower shows are all the rage right now. And finally, eating ice cream on cool a summer night. Actually that sounds like a wonderful idea. I hope everyone enjoys their summer! Bye~
Follow my blog with bloglovin