I like many fellow lolita and himegyaru am a shopaholic. I believe there is nothing wrong with this being such. But with the more regalia you own the responsibility to keep things organized becomes greater.
Lately I noticed my jewelry box becoming overcrowded with earrings and my make-up bag budging with the multitude of new nail polishes I purchased. So doing what I do best I went and bought an earrings stand and polish rank to display and keep these items well organized.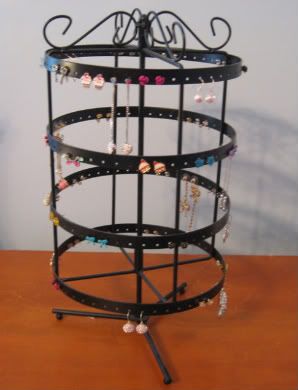 I really love this earring stand from ebay. It revolves and can come in a black, silver, or bronze color. It is available in the circular shape you seen in my picture or a square shape. This stand holds 96 pairs of earrings and there is an even larger stand that holds 128 pairs. This stand is compact and actually pretty. The metal strips are well spaced so that my dangly earrings can be fully displayed.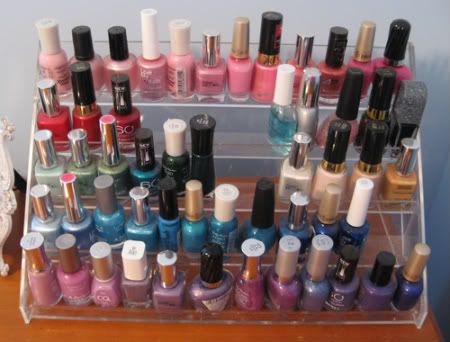 This rack was purchased on ebay as well. I bought the clear plastic so I can decorate it later without the worry or any clashing colors. I am currently gathering ideas for the decoration now. Expect pictures of it later.