Some family members should be avoided at all cost. But that is not the focus of this entry so I will get to that in a moment.
For my first craft project I decided to post my heart floor cushion.
This project started out with a water main break in my house. Which led to a collapsed waterlogged ceiling destroying a majority of the furniture in my room including my computer desk. I went on a search for a new desk but could not find any I liked. Being thrifty I thought the old butler's table from the foyer would make a cute desk. It works well and does not overpower my room. The only problem was I had to sit on the floor.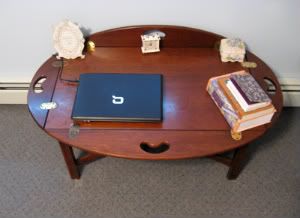 This new problem sent me on another quest: a floor cushion. I knew what I wanted, a blue heart, but I couldn't find a store that made that shape or color combination. This is where my family member comes into the picture.
My aunt having discovered her new ecological conservationist roots bought me three cushions from her couch she was going to get rid of.
- "Recycling these will help the environment!", she told me.
- I pointed out to her that not throwing away her couch because she wanted a new one would also help the environment. She ignored my wonderful advice while throwing the cushions in my room and running off to the nearest furniture store. (I need to stop before I get on a tangent.)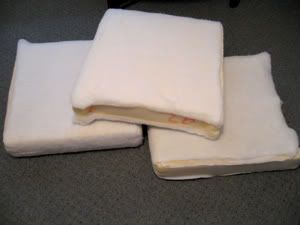 Now left with these three disgraces to the environment and my own devices, I began my work.
1. I cut half of the cushions down the middle and toward the ends making sure not the cut through the folds I had created.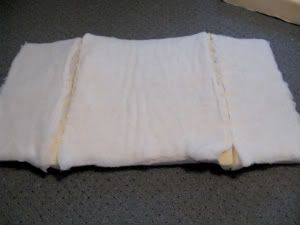 2. I basted the cushions together to keep them in place. Then I drew the outline of the heart I wanted.
3. I then cut the heart out. ❤
5. Measuring the heart, I cut out the fabric pattern. (The fabric is "Soft & Comfy" and is actually a light sky blue color.)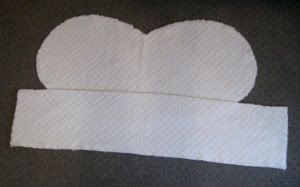 6. Then I sewed the fabric together, put it on the cushion form, and sewed the pillow closed.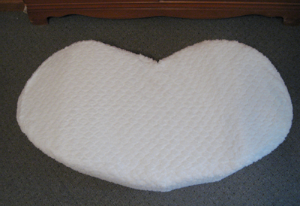 Ta-da! Now I have a wonderful "environment-saving" floor cushion which is very comfortable.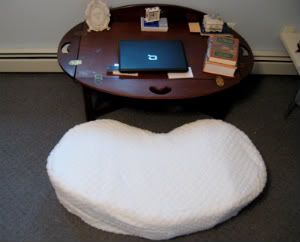 The only problem now is my cats like to steal it while I'm not looking.