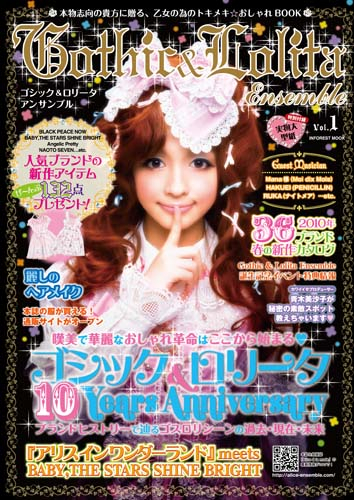 I was wondering if KERA was planning something special for the Gothic & Lolita Bibles since an issue for 2010 had not been announced yet. They were! Aoki Misako recently made a blog entry about a photoshoot she was modeling for and a new Gothic & Lolita Bible book! It's titled Ensemble vol. 1.
According to what I can read on the cover, it seems to have some of the same articles that the normal Gothic & Lolita Bibles usually have.
~ 36 outfit brand spring catalog
~ Alice in Wonderland meets Baby, the stars shine bright
~ Hair and make-up tips
~ Brand history 
~ Gothic lolita scene: the past, present, and future
~ Guests: Mana, Hakuei, Ruka (Nightmare), etc.
~ New items from popular brands
So I wonder as to why this is titled separately from the usual Bibles, not incorporated in the Gothic & Lolita Bible Extras, or the single Boudoir issue.
Unfortunately the information for this issue is not up on the Kera website yet. I can only speculate that the issue will be released on February 27th for the Gothic & Lolita Bible Ensemble Event Sale. Hopefully it will be available to online book stores that carry the other issues as well.
image from:
Aoki Misako's Lovely Pink Diary