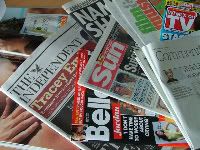 I become apprehensive but giddy every time I am informed that one of my favorite fashions will be worn by celebrities or acknowledged on television, in magazines, or in news articles. With lolita fashion being mentioned on Bones and other television shows, and celebrities wearing and visiting brand shops the world is slowly becoming more exposed to our favorite fashion. With each exposure I hope we might not receive such blank stares when we are out in our fineries for the day. However, it is still up to the actual lolitas to show the world how to wear the fashion and how to act appropriately.
One of the questions frequently asked on egl is: Do you fear lolita becoming mainstream? Not really. Every time the slightest mention of lolita appears in the media this question is posed. Modern fashion trends are in a completely different direction from lolita. Current American fashion is about wearing tight outfits and showing as much cleavage and leg as possible. Gyaru fashion would appeal more to America than lolita fashion would. For lolita to become mainstream celebrities would have to frequently wear it and I don't foresee modern celebrities making such a drastic change. It would probably take a group of lolitas becoming celebrities for anything big to happen. (It would make for an interesting reality show.)
This post was of course brought about by Jessica Simpson's Price of Beauty Japan episode. Most reviewers said they were shocked by Jessica's utter disrespect for the Japanese culture and lolita culture, however I was not. I expected nothing worse from her and her group of friends. Just like other lolitas I was displeased with the lack of mention to Maki and Asuka along with the generalized labeling of lolita as Harajuku girls. If a host is visiting a brand shop and wearing one of their outfits on a runway they should inform their viewers about the shop and designers.
Here is a bonus clip of Jessica and CaCee trying on two Angelic Pretty onepieces without the beehive and horrible make-up.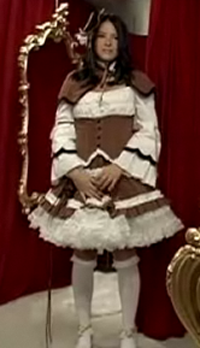 Although brief, I was pleased that actual lolitas were shown on The Price of Beauty. I was also please she went to Angelic Pretty unlike G4's Attack of the Show hosts that went to Bodyline. Olivia Munn tried on the worst brown outfit, then tried on a biker jacket with a pink petticoat, and finally a maid outfit. While the Price of Beauty was horrible, I feel it was slightly than G4's minimal mention of lolita fashion.
top image from: Institute for Social Marketing
Olivia Munn screen cap from: G4