I finally cracked down not long ago and decided I needed a new mirror. Since our move to Delaware I have had only the bathroom mirrors and a small make-up vanity mirror from IKEA to use. I loathe getting dressed up without a full length mirror to compare my outfit to the image I had in my mind.
Most of my furniture is a dark Mahogany or warm Maple colored so I had a nice selection of mirrors. I bought this for only $586. The wonderful delivery men carried the heavy thing into the house for me for no extra charge. Then I had the fun of putting it together, my fiancé helped (did most of the heavy work... ❤).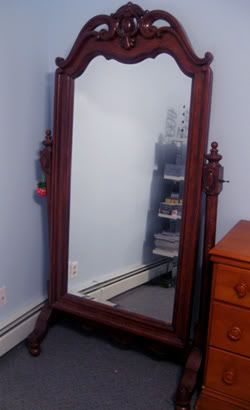 Thus with the new addition to my room I can include outfit pictures.