For those that used to follow
The Princess Portal
you know that May 5th is International Princess Day. This is another self made holiday to celebrate your princessly self. This is a day to pamper yourself or do something that makes you feel like a princess.
For my Princess Day I decided I wanted to go on a tour of Winterthur Estate. Since I was unable to go to Point-to-Point this year. I enjoyed my morning by just lounging and appreciating a day without a need to rush around and without school work.
Then I experimented with the himegyaru hair style, which sadly deflated as the day continued and through the constructing and moving of my mirror. I think next time I will use
Violet LeBeaux's himegyaru tutorial idea
of putting something under the bump to keep the shape.
Winterthur was amazing. The garden was also lovely, but since I recently went to Longwood Garden I was really only interested in a tour of the mansion. Here are some of the rooms of the 175+ room mansion we were allowed to see. Sadly most of my pictures came out blurry because I had my camera set to take outdoor pictures. The other photos are available to view on my flickr.
I had a great time and the day got even better. I returned home just in time before a large deliver trunk left my driveway. My mirror had arrived! Brad and I constructed the mirror, rearranged the furniture, and set it in the corner of the room. I was extremely happy it arrived because I was unhappy of the pictures of myself throughout the tour.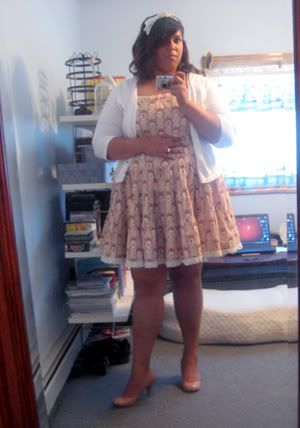 Jumperskirt: Innoncent World
Headbow: Innocent World
Sweater: Offbrand
Shoes: Madden Girl
My poor deflated hairstyle...
Now before I get multiple negative comments and emails, I know my skirt is rather short. I am 6 feet tall! And I am very aware I am a fatty-fatty-2x4 so such comments are pointless and will be ignored/deleted.