The OTT sweet craze remains strong. After making Angelic Pretty its diabetes inducing headquarters and having turned BTSSB and Meta to the dark side it is now slowly trying to infect Innocent World. Searching through the brand stores today I noticed the OTT virus is attempting to land in Innocent World territory again. Innocent World has released other sweet prints, but has held out well from most of the OTT-like prints. I'm interested to see this brand's designs in the next year or so. The newest sweet print, Cherry Cat, is adorable but not too cavity inducing.
Cherry Cat onepiece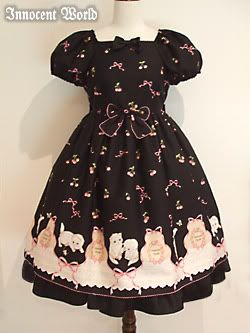 Two other items I noticed that seemed out of place on Innocent World's catalog was an Annette onepiece and a Gina jumperskirt. I understand the want to deviate has much as possible from OTT, but making shapeless masses for clothing is an interesting retaliation technique.
Annette onepiece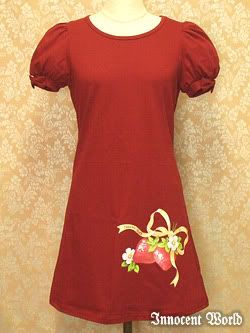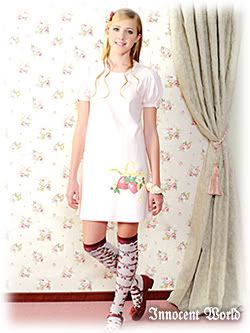 This dress is not too horrible. I have never liked the whole shirt dress trend though. This dress needs a cute belt or sash to break up the monotony. I do not see this dress as lolita though.
Gina jumperskirt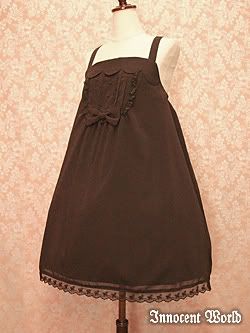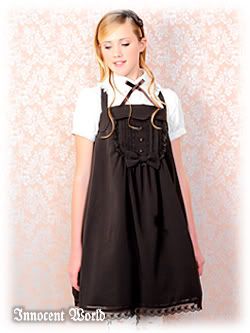 What is this ugly monstrosity? My first reaction was "Is that a brand moo moo?!" It looks like the designers forgot to put a waist in this jumperskirt. The front panel seems like it would fit better on a shirt. I guess if someone was pregnant this would be a good lolita jumperskirt. It would be interesting to see a maternity lolita brand.
images from:
Innocent World