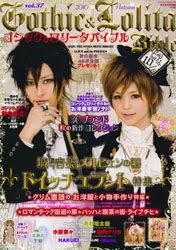 On Tuesday August 24th the 37th issue of the Gothic & Lolita Bible was released. This issue features the new fall collections. I checked this morning and this issue is not yet available on yesasia.
I am in no way fluent in Japanese. I took 3 year of Japanese classes and am continuing to study on my own. I still have a lot of learn so if something is incorrect I am sorry.
Featured:
・ New fall line collections from 36 brands
・ Special appendix:
~ pullip × 5 brand seals
~ life size paper patterns
・ Castle, music, and Märchen (folk tale?) Country
・ German special edition
❤ Skillful castle and palace romantic highway trip ❤
❤ Leipzig's music and cafe street ❤
❤ Innocent World's Fujiwara Yumi's trip around German with pullips ❤
❤ Special edition clothing and handmade accessories of Grimm's fairy tales ❤
Innocent World × 「Snow White」
Angelic Pretty × 「Red Riding Hood」
GRAMM(h.NAOTO) × 「Rapunzel」
PEACE NOW × 「The Star Money」
BABY,THE STARS SHINE BRIGHT × 「Sleeping Beauty」
・ BABY,THE STARS SHINE BRIGHT&ALICE and the PIRATES 48 point new fall line presents
・ Good gothic & lolita note studying clothing
・ Many special rules to wear gothloli clothing stylishly with other slightly different clothing
・ Studying to become the prefect gothic & lolita
・ Gothic & lolita church foundation
・ First time 「My gothic & lolita-like job」
・ Artist, designer, shop staff, etc.
image from: KERA Info