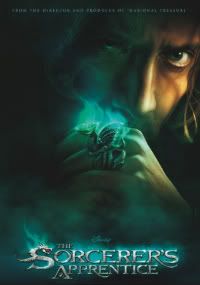 I went to see The Sorcerer's Apprentice two Sundays ago with Brad and my good friend Angelica. It was really cute and funny. I am definitely buying this when it comes out on DVD. I would recommend to go see it. If you do go to see this movie make sure you stay for the extra scene after the credits.
I really liked that there was a recreation of the cleaning up scene from
Fantasia
. The music scene with the Telsa coils was another great part of the movie. Being a science nerd myself I enjoyed that the main character was one as well.
Sunday was a blast. Before going to the movies, Angelica and I went to the Eastern Market in D.C. in the morning. Afterward we went to the Arboretum and fed the koi fish. Sadly the park was closing not long after we arrived so we did not get to see the rest of the park or bonsai trees. There was a big school of koi fish at the end of the pond next to the food dispenser.
Feed us! Feed us!
When we had to leave the fish started following us along the edge of the pond. But they turned away about half way across the pond.
top image from:
80millionmoviesfree.com