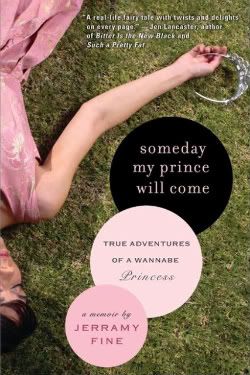 Feeling a little blue lately I decided to visit the bookstore. I roamed around for quite some time and could not find anything I wanted to read until I was about to leave. Right next to the exit was a curious book that begged to be picked up called
"Someday My Prince Will Come."
This cute memoir is about a woman that gave up on ordinary before even being born. At the age of six she decided she was going to marry a prince of the British royal family, Peter Phillips. She continued to chase her dream raking up a massive amounts of debt and stress from escaping Colorado, going to expensive colleges, living in England, and trying to not get deported to achieve her dream. Refusing to join the real world and sometimes living on determination alone she finally met her prince. After meeting him, she realized he just like any other guy. She and her prince parted after a wonderful conversation to return to their own lives. Although not quite achieving her final goal she is happy with the choices she made.
I bought the hardback book which has 304 pages. It is a light read. You do not have worry too much about extensive, boring records from her college years, although she did have to live in a building that should have been a bomb shelter. Or drab stories about everyday life, but she does touch upon some of her low moments in England. The book also contains wonderful accounts of parties, trying to persuade her parents to enroll her in an English boarding school, and episodes of makeup stealing male roommates.
I really enjoyed this book. Having given up on being just ordinary a long time ago I was pleased Jerramy felt the same way. One of my favorite sentences appears when she complains about people asking her when she was going to grow up and join the real world. "Sometimes I think the 'real world' is just a phrase invented by adults to give credibility to the miserable live they've created for themselves." I agree. There is no point in being conventional if it is not in your heart to be so.
If that idea is too far fetched for you you can think of this book as a mild motivational book. Jerramy has many self inspiring, self-help quotes that helped her achieve her goals. One great quote is "Everyone, despite their circumstances, has the power to become the person they were meant to be, and the power to follow the dreams that dwell inside their heart. You just have to be brave and stay focused." As well as "...you eventually
become
what you think about most, but I was certain that you also
attract
what you think about most..." If you need a pick-me-up or just want to read about an odd woman that was determined to become a princess I would recommend this memoir.
image from: amazon.com