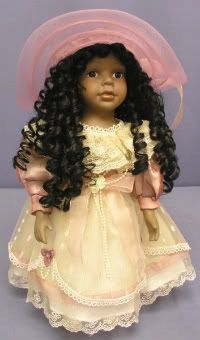 A few lovely e-mail trolls, or one person with no life, have inspired me on a topic I have been thinking of posting for some time now. Race. For those that do not know I am half African American. You may feel free to unfollow me if that makes you upset or offends you in any way.
This morning I received three nasty e-mails about the fact that I am an African American wearing primarily Asian or Caucasian dominated fashions. If this person(s) took the time to read my blog they would know I enjoy the fact that I am a deviant from normal American society. I also enjoy that I differ from the popular displayed black culture as well. So the sock puppet e-mails do not offend me in the least. I am proud of who I am -taste in fashion, skin color, and hobbies alike-.
This person(s) loved spouting nonsense such as I belong wearing booty jeans, massive hoop earrings, mini skirts, and shirts that leave nothing for the imagination. I have never identified with that kind of style nor do I wear clothing like that. Placing someone in a stereotypical group such as that is beyond archaic. I did not know that clothing defined what race a person belongs to. Does that mean African American gentlemen cannot wear a three piece business suit? Or looking at the other side of the argument, does that mean Caucasians cannot wear brands primarily worn by African Americans?
Other arguments they tried to justify is that I do not fit the picture of a princess or porcelain doll, so why am I trying to portray myself as one? Because it is the 21st century, I can, and I want to. There might be cause for concern if I kept stating I was a Disney princess or if I attempted to wear white foundation and doll make-up, but that is not the case. There have been princesses of all shapes, colors, and sizes throughout history. So I do not know how I could not fit into the image of a princess. I will also point out there are black porcelain dolls.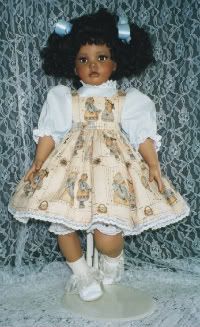 (She is adorable!)
Yes, lolita/himegyaru is a fashion generally geared toward those with a light complexion. Yes, lolita fashion is based of European fashion and designed by the Japanese. Yes, himegyaru is a fashion which imbues a princessly spirit. However, nowhere is it written that girls or boys of other races cannot wear lolita/himegyaru fashion. Fashion and clothing have no racial discrimination. Clothing tags describe how to care for and wash clothes, but I have never seen one tell who can and cannot wear the clothes.
The grief I receive from my fashion choices does not stop with anonymous e-mails. Much like other lolita/himegyaru I am sometimes chastised by peers, neighbors, and random strangers. I have no problem with being called odd or asked why I dress the way I do. But being rude by calling someone an Oreo is not needed and childish. Those kind of statements do not deter me from dressing in my favorite fashions. Nor do they deter me from blogging about my favorite fashions. So please go find another hobby other than making sock puppet e-mail accounts and sending me vulgar e-mails that will just be deleted. Thank you.
top image from:
African American Gifts
bottom image from:
Lazy D Dolls