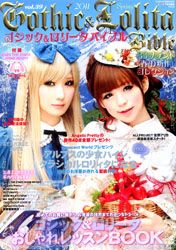 Last Thursday the 39th Gothic & Lolita Bible was released. This issue snuck up on me. The spring issues usually seem to be released between March and the beginning of April so I was not expecting news of a new issue so soon.
Disclaimer
: I am in no way fluent in Japanese. I took 3 year of Japanese classes and am continuing to study on my own. I still have a lot of learn so if something is incorrect I am sorry.
Featured:
・ 19 Gothic style brands
・ ~WELCOME TO GOTHIC CIRCUS~ Spring's new collection catalogue
・ 14 Lolita style brands
・ Spring's new collection ~Ribbon Magic~
・ Special appendix:
☆ UsaKuma stickers
☆ Life size paper patterns
・ Gothic & Lolita smartly dressed lesson book
Lesson 1: Preferred type & the art of coordination
Lesson 2: Brand print sample catalogue
Lesson 3: 15 most popular brand album catalogue
Lesson 4: Spring new collection bags & accessory catalogue
Lesson 5: Shoes & socks catalogue
Lesson 6: Clothing maintenance techniques
Lesson 7: Attractive hair style and clothing combinations
Lesson 8: Advanced hair styling chapter
Lesson 9: Make-up basics
・ Innocent World presents
・ 「Heidi Girl of Alps」 German mansion chapter
・ Heidi Girl of Alps, Become a classical lolita!
・ Angelic Pretty
・ Spring's all present new line collection catalogue
・ Mitsukazu Mihara's cover girl sketch transformation
・ Maiden's homemade small accessory dream
・ BABY,THE STARS SHINE BRIGHT ★ Star tiara
・ Millefleurs ★ Angel detached collar
・ PUTUMAYO ★ Alice ribbon headdress
・ MAM MAXICIMAM ★ Black angel detached collar
・ CHOCOCHIP COOKIE ★ Bear ribbon comb
・ Dangerous nude ★ Queen's crown headdress
・ kikirara SHOUTEN ★ Princess ribbon fastening cape
・ MA MAXICIMAM ★ Punk lolita gauze armband
・ Angelic Pretty ★ Pirate ribbon headdress, crown eyepatch
・ Special fantasy comic report
・ Travel through previous life experience ~Love Moon princess ~Takarano Arika~
・ Time Travel to the Strange World (x2)
・ ALI PROJECT Takarano Arika
・ New series Gothic fairy tale start!
・ Gothic & Lolita mail order note cost
image from: KERA Information