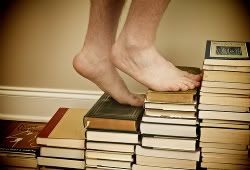 Comcast has decided to grace me with service just in time for the monthly quote. I hope that I will never have to sign-up with this service again! The gentleman that installed my service was pleasant though and understood my unhappiness toward the company that he was working for.
"Intellectual growth should commence at birth and cease only at death."
--Albert Einstein
The weather in March is always unperdictable. Between slightly warm days, horribly windy days, and cold rainy days, March is one of the months that I spend the most time indoors, besides the coldest days in winter. But 31 days of same surrounds does tend to give me cabin fever. So I like to bide the time by learning new things, reading, or if I dare to venturing outdoors I like to see new places.
I will try to make March a month of exploration, experimentation, and learning. Some ideas to make this a month of intellectual growth are to read new literature, learn a new skill, take a class, visit a new place you have never been to, or go to a museum or play.
image from:
manIA