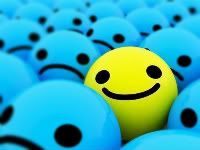 "No one is in control of your happiness but you; therefore, you have the power to change anything about yourself or your life that you want to change."
--Barbara de Angelis
So many people these days are unhappy. They loath their jobs, detest their body image, dislike their friends, and hate their material objects. People spend most of their energy on being negative but refuse to use any of their time to try to change what they are unhappy about.
The beginning of spring is supposed to be a happy and cheerful time. So this month I will focus on changing that which I am unhappy with and that I have the ability to change. This ties in with the personal development plan, PDP, I created. Some of the areas I am unhappy with are my weight, hair, and nails. Ever since I made that PDP I have been working toward achieving my short term goals. I have only managed to accomplish a few of the goals I set, but I am very happy. My nails are flaking less often and are longer, I have lost 15lbs, and cleared out numerous old pieces of clothing from my wardrobe. I also was very brave and had my hair cut two weeks ago. I have had many bad experiences with my hair so I rarely allow people to do anything to it. But my ends look healthier and my hair has grown most of the 3 inches back! ❤
I hope this spring will bring you happiness. And if it does not I hope you can change whatever it is that impedes on your happiness.
image from:
Psychology Today