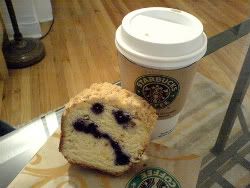 It is typical that the month I set aside for change and to inspire happiness as been one of the most unhappiest months for me. With a chaotic work schedule, illness in my family, and the recent issue with my paypal being hacked I have had little time and desire for personal change.
This month has definitely been a lesson in changing what I can and accepting what I cannot. I am happy with what little self change I was able to accomplish. Plus I did managed to finish a few more items from my
101 in 1001 days
list! And I hope to finish the other items in the future.
I did receive a few e-mails wondering if I was going to stop Princessly Living and leave lolita/himegyaru. No way. I enjoy my blog and fashion too much. A true vegan would not stop because of sadness. Olympic athletes do not quit because life decides to play dirty. And I most certainly will never stop being me because of a few bumps in the road.
image from:
Misanthropy Today