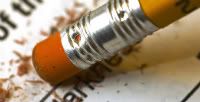 "Above all, be true to yourself, and if you cannot put your heart in it, take yourself out of it."
--Unknown
This month is the half year mark. How are you doing with your resolutions? I usually take June to reassess the resolutions that I made in January. Some resolutions will be marked as important, so that I can really focus on completing them, while some might be changed completely. I believe there is no shame in stopping an activity because it is something that was not for you. You attempted something new and it did not work out, so try something else new.
Goals for this year:
☑ Get a house/apartment
☑ Beginning planning for wedding
☑ Help others
☑ Establish credit
☐ Get driver's license
☐ Go to the Cherry Blossom festival
☑ Attend more events
☐ Take more pictures
☐ Increase posting frequency
☑ Travel (June 24th - 27th)
☐ Craft more
☐ Set up crafting area
☑ Fix flaking nail issue
☑ Be more lady like
☑ Lose weight
☐ Improve make-up ability
☐ Update wardrobe
I have completed or am currently working on most of the goals I set out to do this year. There are three goals that I definitely need to work harder on. Plus I have completed 44% of my 101 goals! So though this was not the smoothest last six months I would definitely say it has been the most productive.
image from:
ERMA New Zealand