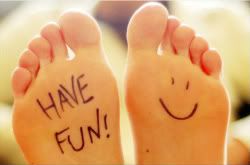 "Life is too important to be taken seriously"
--Oscar Wilde
I am so happy that July and August 1st are finally over!
Last month I was so busy to the point of depriving myself of a life. Between my normal work schedule, training the new processors, all the time I had to filled in because of people calling out or being terminated, and being on call, most of my relaxation time was spent sleeping. I was starting to feel mildly depressed. And the situation with my two new coworkers was not helping my mood either. I was even unhappy the few times I was free to be out with friends. Sorry to all the people I temporarily stopped talking to. I did not want to hear about your movie nights, meet-ups, and preparations for Otakon, which I had to work through, while I was at work.
But not this month! For the month of August I am going to relax, have fun, and enjoy myself again. I have only agreed with work extra hours on three occasions. One of which was yesterday. So I will finally be going back to crafting, watching Asian dramas, and of course blogging ❤. Life is too short for me to be unhappy and to spend the majority of my waking hours working or commuting to/from work. Working is important, but being happy is even more important. Make sure you are enjoying yourself this month too!
image from:
Tùy bút của Yoshiro