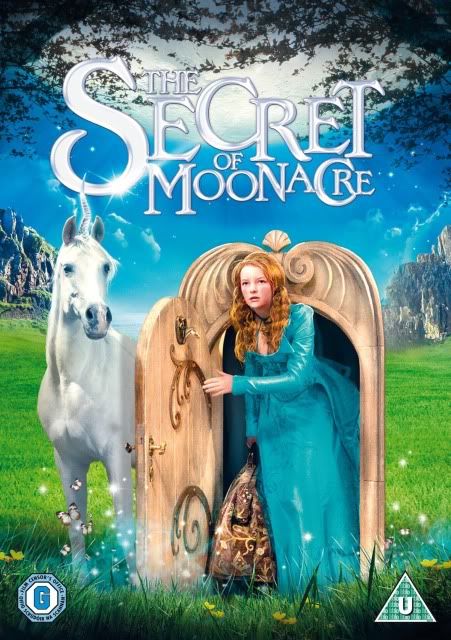 In addition to reading
The Three Musketeers
and watching
Grimm
and
Once Upon a time
, I have been trying to find new and interesting fairytale movies and shows. Last weekend I happened upon a movie called
The Secret of Moonacre
.
The movies opens with little Maria Merryweather and her governess, Miss Heliotrope, attending the funeral of her late father. Mr Merryweather was so in debt that he leaves his daughter nothing but an old book,
The Ancient Chronicles of Moonacre Valley
. Being that her father's estate is going to be sold she moves in with her unfriendly and untidy uncle Sir Benjamin Merryweather. Maria's new home, Moonacre Manor, is very odd. Upon arrival Maria and her governess are almost accosted by bandits, most of the house is off limits, there is a forbidden forest, the piano plays by itself, there does not appear to be a kitchen, and Maria's bedroom cieling has live twinkling and shooting stars.
Maria's inherited book tells a fairy tale of a girl who was so loved by nature that she was granted moon pearls, that could great any wish, and the title of The Moon Princess. But upon her wedding day, her family the De Noirs and the groom's family the Merryweathers started a feud over her pearls. The all-too-true story tells of a curse at the 5,000th moon that will destroy the Moonacre Valley unless a pure heart finds the pearls and the two families can work together to return them to the sea. Maria's arrives in Moonacre Valley 4,999 moons since that day.
The Secret of Moonacre
was a really cute movie. I loved the idea that the fairytale book was the actual history of the two families and not just a random phophecy. I
loved
the cast wardrobe. Maria and Miss Heliotrope's dresses were an interesting alternative to typical Victorian fashion. Miss Heliotrope's kimono obi and Maria's different fabric combinations and open backed bustle were so eye catching. And the De Noir bandits' outfits reminded me of
The Clockwork Orange
.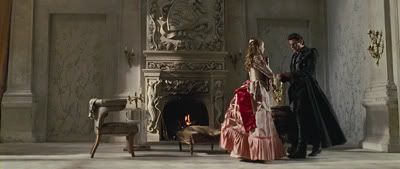 This movie was obviously meant for a younger audience. Besides some arguing and the bandits briefly kidnapping Maria there really was not any conflict. I was at least excepting a fight scene when the two family finally met to get Maria before the pearls were thrown back into the sea. Anything needed was easily obtained, enemies were easily persuaded to become allies, Maria was quickly able to escape the De Noir's prison, and the location of the lost key and moon pearls were easily found. While
The Secret of Moonacre
was a delightful movie and had a good story, it sadly had no thrill, suspence, or intrigue.
first image from:
Jolly Good Show
other images:
Lorliaswood