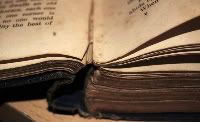 "Some day you will be old enough to start reading fairy tales again."
--C.S. Lewis
Last month was horrendously busy. The only task I managed to complete was to locate my camera. I sadly only went on one meet-up. And spent the rest of the month working, apply for new jobs, trying not to get sick, and re-planning my wedding. So November will be another month to focus on relaxation. One of my favorite hobbies is reading, especially classical or fantasy books. So in between planning my happy ending, I will be reading others.
I have already read Grimm's fairytales, Alice in Wonderland, and Through the Looking Glass. I think the next book I would like to read is the tales of The Three Musketeers. I went yesterday to see the new musketeers movie and noticed I've never read the book. Sorry for the short post, I do not feel well. The flu shot was definitely not a good idea. Anyway, have a good November ladies and gentlemen.
image from:
deviantart: thisaoife