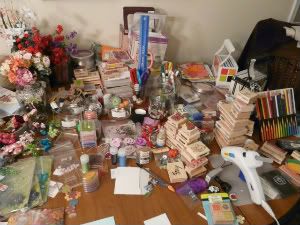 "A hobby a day keeps the doldrums away."
--Phyllis McGinley
The end of January was amazing! Getting off of work at 5pm with the whole evening free is wonderful. I no longer have to spend almost every waking hour working or in transit. No more days of only getting five and a half hours worth of sleep. The semi-permenant dark circles under my eyes have almost disappeared. I feel refreshed every morning I wake up. My nutrition is so much more healthy. And my face has started to cooperate with me.
I have also been able to keep ahead of house chorus, interact more with friends, attend more family events, organize my closet, and declutter my jewelry box. I am able to enjoy decorating my nails and making cute lunches. And I am having fun looking for and purchasing new roomwear, home goods, and pampering items.
My life has once again becoming princessly.
With my new free time I no longer have to rush through doing stuff I love. I have been able to clear and rearrange my crafting area. And have been able to think about what projects I would like to finish and new ones I would like to start. So this month I am planning to rediscover some of my favorite hobbies. I hope to reacquaint myself with my computer, dust off my sewing machine, find all my of quilling materials, and update my Rosetta Stone. I think one of the reasons I am really enjoying my new job, besides the perks and better health, is because I get to be me again.
image from:Lithuanian Egg Etching and Crafting