Happy Valentine's Day!

I would like to wish a Happy Belated Valentine's Day to all of my lovely readers. I truly appreciate all the e-mails, comments, and well wishes I have received over the years. I love that people find my articles, challenges, and rants entertaining and inspiring. I also really enjoy hearing everyone's opinions from the polls. And I am very honored that a few of you have asked for my opinions on your projects and goals. While blogging is one of my personal hobbies, it would be boring without all of you. ❤
Since Valentine's Day is a day to show that you care, I decided to listen to an idea a few of you have suggested. A few of you thought it would be fun if I had a name for my blog's followers. I did not think it mattered, but others have thought it would add more of a connection with you ladies and gentlemen. So since my blog is Princessly Living I thought it would be cute to call my followers my court.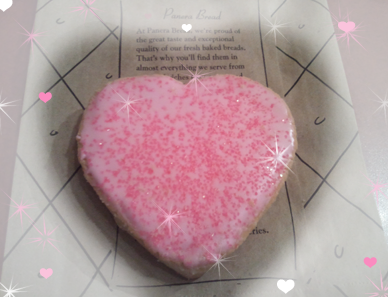 And in the spirit of Valentine's Day I would like to share a heart shaped cookie with all of you. But this one is mine from Oppa. ❤
I hope everyone had a wonderful Valentine's Day. And I hope I will be able to meet a few of you lovely readers at Katsucon this weekend. I am nervous about my first big convention, but I am most excited about the formal ball.