Week 6: What's your lolita playlist?
This is my first week participating in these weekly challenge. My favorite songs are usually cheerful with a danceable beat. I also the rock and alternative genres.
I thought it wise not going to clunter my post with youtube videos images. If you want to list to the songs you can click on the provided links.

Some of my normal music:

Ace of Base -
Beautiful Life
Owl City -
Fireflies
Selena Gomez & The Scene -
Love You Like a Love Song
OneRepublic -
All the Right Moves
Jordan Sparks -
One Step At a Time
The Corrs -
Breathless
RuPaul -
Main event

Some foregin music:

Secret -
Starlight Moonlight
Kara -
Secret Love
Seven Days -
LUV
CRAYON POP -
Saturday Night
SNSD -
Chocolate Love
Jay Chou -
Princess Syndrom

For my super sweet days:

Patrick & Eugene -
Don't Stop
Norah Jones -
Chasing Pirates
The Cranberries -
Dreams
Sixpence None The Richer -
Kiss Me

For my darker days:

Nightwish -
Phantom of the Opera
Within Temptation -
Angels
Rasputina -
Transylvanian Concubine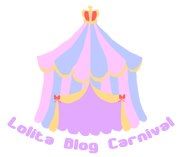 Other Lolita Blog Carnival participants this week:

Commercially alternative ❤ Dollhouse diaries ❤ Geisha Baby ❤
Hello Batty ❤ Kira kira shoujo ❤ La petite princess ❤ Le boudoir ❤
Parfait doll ❤ Päivänvarjon alla ❤ Pop Princess ❤ Princess Palace ❤
Puppenschloss ❤ Ramble rori ❤ Stranger and stranger ❤ Sweet lolita doll ❤
Sweet and simple ❤ Swirly purple and green crayons
image from:
favim.com